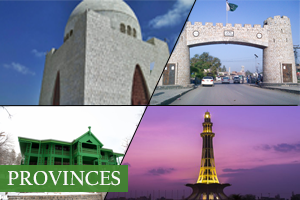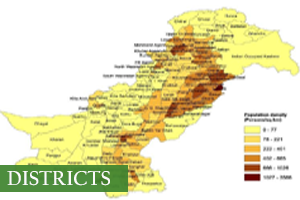 GEOGRAPHICAL LOCATION INCLUDING MAP (LOCATION WITHIN PAKISTAN/PROVINCE AND MAP OF DISTRICT)
Pakistan is located between 23° 42° to 36° 55΄ north latitudes and 60° 45΄ to 75° 20΄ east longitudes…
Mud Volcanoes of Balochistan
World's Largest and Highest Mud Volcano is located in Balochistan; Chandragup and Jabl-ul-Ghuraib are most well known.
Handmade Weaponry  
South Asia's largest Black Market for Weapons is Located in Darra Adam Khel of Kohat District. This is a 160 Year old Market Producing handmade replicas of weapons like AK-47s, to anti-aircraft guns.
Snow in Sindh
Located in Dadu District; the highest peak Gorakh Hills discovered in 2009 at an elevation of 2,151 m located on Kirthar Mountain Range receives snow in winter.
Gold Deposits
Reko Diq in Chagai Balochistan contains one of the largest deposits of gold in the world having estimated reserves of 5.9 billion tonnes of ore grading 0.41% copper and gold reserves amounting to 41.5 million oz.
Bread Basket of Pakistan
Punjab Province contributes nearly 75% to the country's annual wheat production and is thus called the Bread Basket of Pakistan.
Coal Deposits
 Located in Thar (Tharparkar District) the economic coal deposits of Pakistan are one of the world's largest lignite deposits discovered by GSP in 1990s, spread over more than 9,000 km2. they comprise around 175 billion tonnes of coal sufficient to meet the country's fuel requirements for centuries.
Fruit Basket of Pakistan
Balochistan or Fruit Basket of Pakistan; produces 90% of grapes, cherries, almonds; 60% of peach, pomegranate, apricots, 34% of apples and 60% of all dates of the country.
Birth Place of Founder of Sikh Religion
 Founder of Sikh Religion Baba Guru Nanak was born in a small village called Talwandi in the Nankana Sahib district on 15 April 1469.