Share now
Map of Pakistan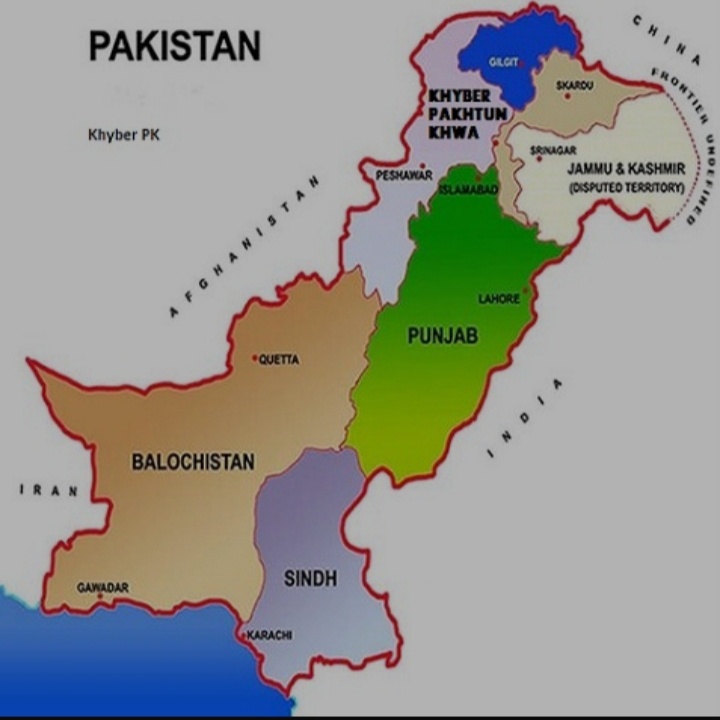 Sindh Govt. Seal/ Coat of Arms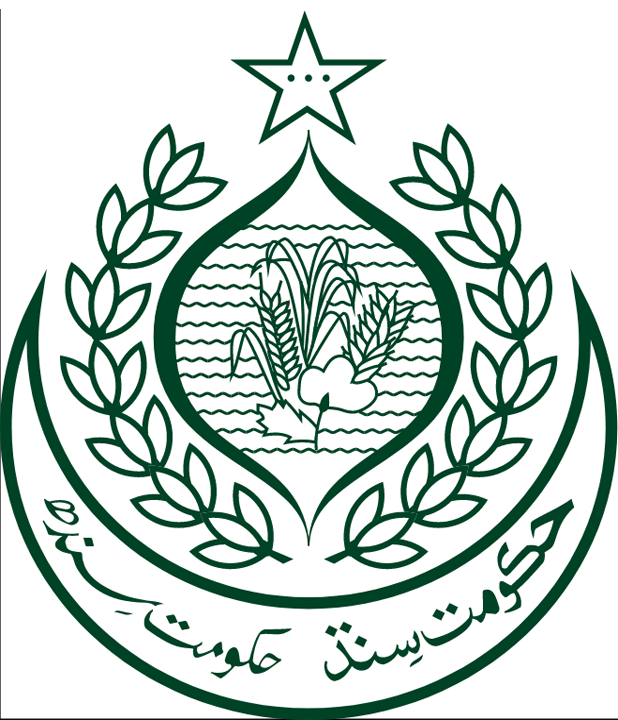 Sindh and its Districts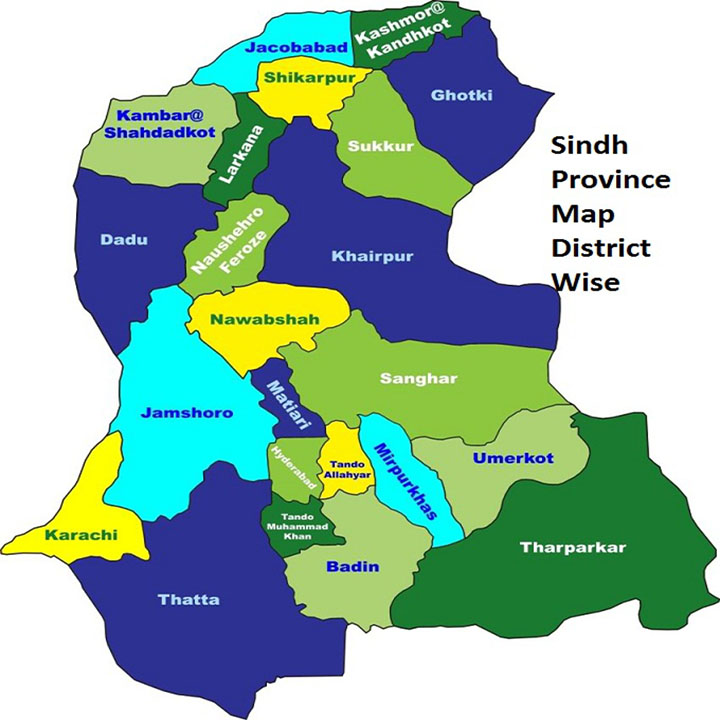 Flag of Sindh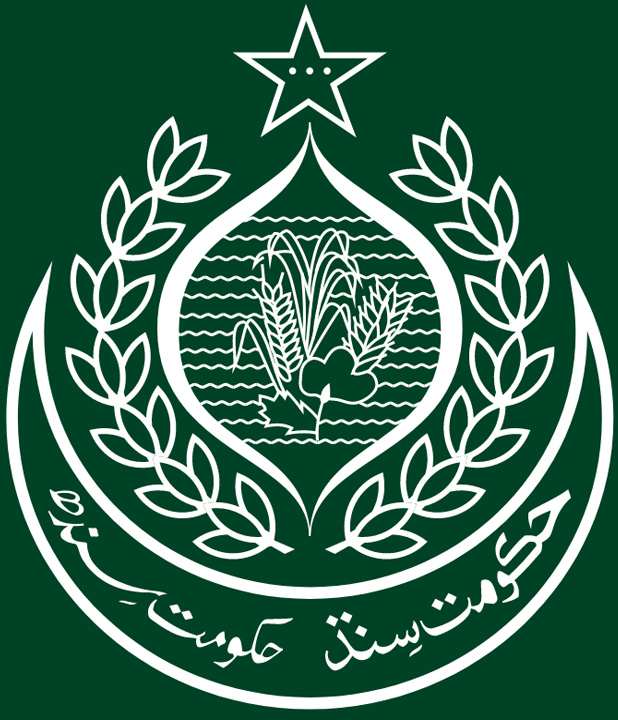 Introduction – Sindh: Geographical and Socio-Cultural Details – Sindh at a Glance
Sindh Province Profile
Introduction; Sindh Province
Sindh has many characteristics of a high-growth region. It is a coastal province, strategically located between Europe and the Far East, with the potential to become one of the largest commercial and business hubs in South Asia[1]. It is the most industrialized of all the provinces in Pakistan, accounting for 40%[2] of large-scale manufacturing output in the country. It is rich in resources, possessing nearly 33% of all mineral deposits in Pakistan.
[1] Extracted from a speech by Sindh Minister for Agriculture Suhail Anwar Siyal while announcing the firstAagriculture Policy for Sindh. Published in Business Recorder (a daily newspaper of Pakistan) in 2018
[2] All statistics included in this section are from Sindh: State of Environment & Development by IUCN Pakistan.
The province contributes significantly towards overall national agriculture production in major crops. For example, it provides 32% of rice, 24% of sugarcane, and 21% of wheat. With the highest crop yields in the country, it has been the nation's most efficient cereal producer. Karachi, Sindh's provincial capital, was the first city in Asia to operate a commercial airport built according to international standards. Karachi's seaports are among the most developed in the region, and it is well connected to other provinces and districts by extensive road and rail networks that can be easily extended to India in the East and Central Asia in the North. Sindh is home to a strong entrepreneurial-minded population, and a large pool of educated workers who contribute significantly to the province's GDP. It is home to many institutions of higher learning which provide academic as well as skills-based degrees and programs.
Sindh Province: Geographical and Socio-Cultural Details
The province of Sindh forms the Lower Indus basin and lies between 23° 35Ꞌ and 28° 29Ꞌ North latitudes and 66° 40Ꞌ and 71° 05Ꞌ East longitudes. It is about 579 km in length from North to South and nearly 442 km in its extreme breadth (281 km average). It has a total area of 140,915 km2. Sindh is bordered in the North by Balochistan and the Punjab, in the East by Rajasthan (India), in the South by the Runn of Kutch and the Arabian Sea and in the West by the Lasbela and Kalat districts of the province of Balochistan.
Sindh is home to a number of historical towns and contains a large number of historical buildings which are protected under the government's heritage laws. Sindh has produced a large number of historically important poets, writers, and Sufi saints. Some important festivals celebrating the lives of these saints include the annual Urs of Lal Shahbaz Qalandar, Shah Abdul Latif Bhitai, Sachal-Jo-Melo, Melo of Marvi, Cheti Chand, and Gaji Shah-jo-melo. At least two dozen folk festivals are held every year in 5 districts after rabi[2] and kharif[3] crops. There is a wrestling event known as Malh, as well as horse and cattle shows in various districts of Sindh.
Sindh Province at a Glance
Name of Province
Sindh Province
Provincial Capital
Karachi City
Population[4]
47,886,000 persons
Area[5]
140,914 km2
Population Density[6]
340 persons/ km2
Projected Density
318.0 persons/ km2
Population Growth Rate[7]
2.41%
Male Population[8]
52.05%
Female Population[9]
47.95%
Urban Population[10]
52%
Districts

23 Districts:

1.    Karachi

2.    Badin

3.    Jamshoro

4.    Thatta

5.    Tharparkar

6.    Umerkot

7.    Mirpurkhas

8.    Tando Allahyar

9.    Matiari

10. Tando Muhammad Khan

11. Hyderabad

12. Sanghar

13. Khairpur

14. Nawabshah

15. Dadu

16. Qambar Shahdadkot

17. Larkana

18. Naushahro Feroze

19. Ghotki

20. Shikarpur

21. Jacobabad

22. Sukkur

23. Kashmore.

Urban Centers/ Towns
Badin, Dadu, Daharki, Diplo, Ghotki, Ghambat, Hala, Hyderabad, Jacobabad, Jamshoro, Karachi, Kashmore, Khairpur, Larkana, Matli, Mirpurkhas, Mithi, Nasarpur, Nawabshah, Padidan, Raharki, Ranipur, Ratodero, Sanghar, Sekhat, Shikarpur, Sobhodero, Rohri, Sukkur, Tando Jam, Tando Adam Khan, Tando Muhammad Khan, Thatta, Ubaro, Umarkot, Moro, and Kotri
Literacy Rate[11]
62.2%
Male Literacy Rate[12]
72.8%
Female Literacy Rate[13]
49.9%
Major Economic Activity[14]
Agriculture with its allied livestock breeding, fishing etc.
37.2%
Mining
0.2%
Manufacturing
15.5%
Electricity, Gas and Water
0.6%
Construction
6.2%
Wholesale, Retail, Restaurant & Hotels
16.4%
Transportation (i/c Storage & Communication)
6.1%
Public Administration etc.
3.21%
Community, Social & Personal Services
6.8%
Education
4.3%
 
Others
3.5%
Main Crops
Rice, cotton, wheat, sugarcane, sunflower, jowar, bajra, maize, sesanum, barley, gram, tobacco, rapeseed and mustard, pulses, canola, groundnut, safflower, linseed, castor, fodder, sugar beet, and soya bean
Major Fruits
Apple, banana, chikoo, coconut, dates, guava, grapes, jaamuns, mango, watermelon, musk melon, papaya, phalsa, citrus, ber, and mulberry
Major Vegetables
Chilies, ginger, turmeric, spearmint, okra, tinda, brinjal, eggplant, bitter gourd, bottle gourd, pumpkin, melon pumpkin, luffa, cucumber, long melon, pusilane, arum, beans, field vetch, lotus roots, onions, potatoes, tomatoes, radish, turnip, carrots, spinach, cauliflower, cabbage, sweet potato, peas, garden peas, knoll kohl, fenugreek, lettuce, and sugarbeet
Forests (Area[15])
1,034,000 HA
Total National Highways
1,279 km[16]
Total Provincial Highways[17]
4800 km
Access Roads[18]
9,893.1 km
Secondary Roads[19]
105,894 km
Electricity Generated[20]
2,884 MW
Telecommunication
Infrastructure includes digital and analog telephone exchanges in each district of Sindh, as well as 2 solar telephone exchanges. Pakistan Telecommunication Company Ltd (PTCL) now provides services through fiber optics, and mostly private companies provide cellular networks and services
Number of Industrial Zones

28 industrial zones in various districts of Sindh. These include (among others):

16 Small Industry Zones

3 Special Economic Zones

3 Industrial Parks which provide help and incentives for small industries and are responsible for the promotion of handicrafts.

Major Industries

·        Agro-based industries: flour mills, rice husking mills, edible oil, and cotton ginning

·        Small scale industry: brick kilns

·        Heavy industry: sugar, cement, cotton yarn, textiles, cloth, cigarettes, tanning, pharmaceuticals, and steel mills

Household Size[21]
6.23 persons per household
Houses with Piped Water Inside[22]
37.2%
Houses with Electricity[23]
86%
Table 1.1 Sindh Province at a Glance
[1] All statistics included in this section are from Sindh: State of Environment & Development by IUCN Pakistan.
[2] Rabi crops are agricultural crops sown from October to December and harvested during March-April.
[3] Kharif (literally means autumn) crops are the autumn crops; these are usually sown in February (sugarcane), Mach-May (cotton), June-July (rice) and July-August (maize) and the harvesting starts in September, continuing to December. Harvesting of sugarcane can proceed up to March or even beyond March, depending on the year's yield.
[4] 2017 Census
[5] Province Profile Sindh 1998 by GoPakistan
[6] 2017 Census
[7] 2017 Census
[8] 2017 Census
[9] 2017 Census
[10] 2017 Census
[11] Pakistan Economic Survey 2018-2019
[12] Pakistan Economic Survey 2018-2019
[13] Pakistan Economic Survey 2018-2019
[14] Percentage Distribution Of Employed Persons By Major Industry Division (Federal Bureau of Statistics [FBS], 2017-18)
[15] Sindh Development Statistics 2018
[16] National Highway Authority Official Website
[17]Sindh Highway Department
[18] Road List 2009 issued by Government of Sindh (Latest Available)
[19] Road List 2009 issued by Government of Sindh (Latest Available)
[20] State of Industry Report 2018-19 by National Electric Power Regulatory Authority; Pakistan
[21] Pakistan Social & Living Measurement Survey 2018-19 (PSLM)
[22] PSLM 2018-19
[23] PSLM 2018-19