Share now
Economic Infrastructure of Pakistan
Pakistan's economic infrastructure consists of roads, railways, airports, shipping facilities, power, and irrigation for agricultural purposes. Road infrastructure is a catalyst for generating economic activity, employment, growth, and providing better integration of economic activities. Road transport is the backbone of Pakistan's transport system, accounting for 90% of national passenger traffic and 96% of all freight movement.
Similarly, a well-functioning railway system is crucial for sustainable economic growth. Railways have a definite edge over roads for long-haul and mass-scale traffic movement both for passengers and freight.
There are 3 ports looking after the shipping requirements of the country. Karachi Port and Port Bin Qasim are older ports, while Gwadar Port is relatively new, beginning its operations in 2008. According to the Economic Survey of Pakistan 2019-20, Karachi Port handled 35,361,000 tons of cargo, Bin Qasim Port handled 36,580 million tons and Gwadar Port handled 7156 metric tons of cargo.
Roads– Railways – Airways – Radio and Television – Telecommunications – Internet – Post Offices and Courier Services – Banking/ Financial Institutions – Energy Resources – Education – Health – Policing
– Roads in Pakistan
Roads are the most important segment of Pakistan's transport sector. They carry over 96% of inland freight and 92% of passenger traffic. The current road network is about 264,401 km, catering to 26 million vehicles of all types[1].
According to the Pakistan Statistical Year Book, 2018, the road network of Pakistan can be categorized with two types of roads as follows:
| | |
| --- | --- |
| High Type Roads | 197,452 km |
| Low Type Roads | 71,483 km |
|  Total | 268,935 km |
Table 1.17 Pakistan Road Statistics
The high type of roads includes National Highways, Motorways, and arterial roads among others:
| | |
| --- | --- |
| National Highways | 9,555 km[2] |
| Motorways | 1,930 km[3] |
| Others[4] | 249,275 km |
Table 1.18 Pakistan High Type Roads
Some of the most important National Highways of Pakistan include:
National Highway N-5 (total length 1,819 km); Karachi–Peshawar-Torkham
Makran Coastal Highway N-10 (total length 653 km); Liari–Gawadar-Gabd
Indus Highway N-55 (length 1,264 km); Kotri-Shikarpur-D G Khan-D I Khan-Kohat-Peshawar
National Highway N-70 (total length 447 km); Multan-D G Khan-Loralai-Kila Saifullah
National Highway N-65 (total length 385 km); Sukkur-Sibi-Quetta
Karakoram Highway or Strategic Road S-1 (167 km) Gilgit-Skardu
Kohala-Muzafarabad Road or Strategic Road S-2 (40 km); Islamabad-Muzaffarabad, Azad Kashmir
Expressway E-3 Road (100 km); Wazirabad-Pindi Bhattian
Expressway E-4 (184 km); Khanewal-Faisalabad
Some important motorways of Pakistan are:
Motorway M-1 (total length 155 km); Islamabad-Peshawar
Motorway M-2 (total length 367 km); Lahore-Islamabad
Motorway M-9 (total length 136 km); Karachi-Hyderabad
Motorway M-8 (total length 892 km); Gwadar-Hoshab
Table 1.19 National Highways of Pakistan
Table 1.20 Motorways of Pakistan
[1] Economic Survey Pakistan 2017-18 and Pakistan Year Book 2018
[2] National Highway Authority Pakistan Official Website
[3] National Highway Authority Pakistan Official Website
[4] Provincial highways etc not under the Federal Government
Railways Pakistan
Pakistan's railway network is maintained and managed by the state-owned Railway Company of Pakistan. Pakistan Railways provides access to the furthermost corners of Pakistan, making them accessible for business, sightseeing, pilgrimages, and educational travel. The important railway lines of Pakistan are the Karachi–Peshawar Line, Rohri-Quetta Line, Khanewal-Faisalabad Line, Lahore-Faisalabad Line, and Lahore-Sialkot via Khanewal Line.
Important international links of Pakistan Railways are to India, Iran and Turkey (mainly operating container services). Pakistan has proposed help to set up a railway access to Afghanistan, from Chaman (Khyber Pakhtunkhwa) to Kandahar (Afghanistan) and Torkhum, (Khyber Pakhtunkhwa) to Jalalabad (Afghanistan).
The following table shows the total kilometers of railway lines in Pakistan[1]:
| | | |
| --- | --- | --- |
| Gauge | Route Kilometers | Track Kilometers |
| Broad Gauge | 7,479 | 11,492 |
| Meter Gauge | 312 | 389 |
Table 1.21 Pakistan Railway Lines: Total Length
Kan Mehtarzai Railway Station in Loralai, Balochistan was Asia's highest (inactive) railway station and is located on narrow gauge railway tracks. This track, and subsequently the station, was closed in 1986, and has not been operational since then, as travel by narrow gauge railway is now obsolete. The station was closed because the locomotives running on the narrow gauge railway lines would become snowbound and rescue would be difficult; travelling by road also became easier.
Table 1.22 Railway Network Map of Pakistan
[1] Pakistan Year Book 2018
Airways Pakistan
At the time of Independence of Pakistan in 1947, there was no air service available in the country for passenger travel, especially to link the two parts—West and the East Pakistan, separated by almost a stretch of 1,000 miles of Indian territory, so between 1947 and 1951, as a stop-gap arrangement, Orient Airways (privately owned) started operating to provide air services on a small scale to some regions of Pakistan. In 1951, the government established PIA, and on 25 May, bought 3 Lockheed L-1049C Super Constellation four-engine aircraft. PIA flew its first service with the Super Constellation on 7th June 1954 on the route linking Karachi and Dacca (East Pakistan, now Bangladesh), which were the main cities of the country's Western and Eastern halves. On 1 February 1955, the airline flew its first international service, between Karachi and London via Cairo. The lone national carrier soon became one of the best airlines in the world[1]. Having started with turbo props, it went on to fly Boeing 707 s/ 720Bs, Trident, DC-10, and Boeing 747 s, and it now operates Boeing 777 s and many versions of the Airbus.
| | |
| --- | --- |
| Total Airports in Pakistan | 62 (3 have unpaved runways) |
| Total Military air bases | 23 |
Table 1.23 Pakistan Number of Airports and Airbases
Figure 1.18 Map of airports of Pakistan
[1] PIA Official Website
Radio and Television Pakistan
Radio
Pre-Partition, the first radio broadcasts started in July 1927[1] from the Bombay Station. The first city (which is now part of Pakistan) to get a radio broadcasting station was Lahore, in 1928. On November 12, 1939, Quaid-e-Azam Mohammad Ali Jinnah's message for Eid was broadcast from Bombay Radio, which became the Quaid's first message to be broadcast via radio. On August 14, 1947, the creation of Pakistan was announced by the Information and Broadcasting Department, and Radio Pakistan was established, which started broadcasting programs from Lahore, Peshawar, and Dhaka. Since then, Radio Pakistan has established its broadcasting stations in nearly every city of Pakistan. In addition, there are privately owned and state-owned FM radio stations in most of the rural and urban areas of Pakistan. Radio Pakistan is broadcasting programs in 23 languages.
[1] Radio Pakistan official website
Television
The PTV (Pakistan Television)[1] started its transmissions with help from the United Nations Educational Scientific & Cultural Organization (UNESCO), from the backlot of Radio Pakistan, Lahore, where a transmission tower and a studio were constructed over time. On 26 November 1964, the first official television station commenced transmission from Lahore, followed by Dhaka, Bangladesh in 1965 (the capital of East Pakistan); a 3rd center was established in Rawalpindi/ Islamabad in 1965 and the 4th in Karachi in 1966. Centers in Peshawar and Quetta were established by 1974. Originally broadcast in black and white, PTV began colour transmissions in 1976.
The first private television station was introduced in 1989 as PTN (Peoples Television Network). This channel was later renamed as STN (Shalimar [Recording and Broadcasting Company] Television Network). In 1990, some of its broadcasting time was sold to Network Television Marketing (NTM). In the late 1990s, this channel was shut down due to administrative reasons and then re-launched as ATV in 2005.
Pakistan's first private channel on satellite was Indus Television, which started airing programming in 2000. The television entertainment industry, previously controlled by the federal government, bloomed under new laws introduced by Pervez Musharraf. This led to increased privatization of the industry, encouraging the creation of, and broadcasting of, privately funded programming on different television channels via both cable and satellite networks. Pakistan now broadcasts numerous channels, a summary of which follows:
| | |
| --- | --- |
| Business Channels | 01 |
| Educational channels | 02 |
| Entertainment Channels | 18 |
| Regional Language Channels | 16 |
| Religious Channels | 08 |
| Movie Channels | 05 |
| Music Channels | 05 |
| News & Talk shows | 31 |
| Sports | 02 |
| English Movie Channels | 03 |
| Kids channels | 02 |
| International News | 02 |
Table 1.24 Pakistan Summary of TV Channels
In addition, there are Sindhi, Punjabi, Balochi, and Pushto channels; these channels broadcast programs in their respective regional languages.
[1] PTV history Forum Pakistan
Telecommunications Pakistan
At the time of Independence, telecommunication services were performed by a single department known as Pakistan Post and Telegraph (P&T). This department started its telephone service with only 12,346 telephone lines and 7 telegraph offices in Pakistan. The telephone service at that time was analog-based. This department remained intact up to 1962. In 1962, Ayub Khan's government split up the P&T department into two separate departments: Pakistan Post and Pakistan Telephone & Telegraph (PT&T) under the Presidential Ordinance. On December 5, 1990 the PT&T Department was restructured into Pakistan Telecommunication Corporation (PTC) with a legal identity separate from the government.
In addition to the inland telephone network, after its inception, the PTC improved international communications significantly. The international communication network of PTC comprises of a variety of satellite earth stations, terrestrial systems, submarine cable systems, and coastal radio systems, as well as international gateway exchanges.
In 1994, the telecom industry was opened to the Private Sector; PTC was transformed into Pakistan Telecommunication Company Limited (PTCL) in 1996 under the Pakistan Telecommunication Reorganization Act 1996 according to which, PTCL took over all the properties, assets, rights and obligations of PTC. Under this Act, the telecommunications sector was split up into 4 bodies:
Pakistan Telecommunication Company Limited (PTCL)
Pakistan Telecommunication Authority (PTA)
National Telecommunication Corporation (NTC)
Frequency Allocation Board (FAB)
The PTA is a regulatory body responsible for monitoring the telecommunications business in Pakistan. It frames rules and regulations for private telecom companies such as mobile phone companies, internet service providers, paging companies, and pay card phone companies. It also issues licenses to new companies for operating in Pakistan.
Internet Use in Pakistan
Internet access has been available in Pakistan since the early 1990s. The first internet providers were Imran-net, providing access to dial-up networks. Broadband was introduced in Pakistan in 1995 by Singnet, an Australian company. Currently[1] (2018) there are 76 million internet/ Cellular/ Mobile Phone Network users in Pakistan.
The cellular/ mobile phone sector has been growing exponentially. Mobilink, Telenor, Ufone, Warid Telecom, and Zong are the most notable telecom companies. These companies are now working on expanding their networks to Azad Kashmir and the Northern Areas of Pakistan.
[1] Internet Service Providers Pakistan; Official website
Post Offices and Courier Services in Pakisran
Pakistan Post Office is one of the oldest government departments of the subcontinent. In 1947, it began functioning under the title of Department of Post & Telegraph. In 1962, it was separated from Telegraph & Telephone, and became an independent department called Pakistan Post. Pakistan Post provides postal services to all areas of Pakistan through a network of around 11,496[1] post offices. It provides delivery services to about 20 million households and businesses as a community service at low subsidized rates. In addition to its traditional mail-delivery role, Pakistan Post also performs agency functions on behalf of the Federal and Provincial governments, which, among other things, include running a Saving Bank, providing Postal Life Insurance, collection of taxes, and collection of electricity, water, gas, and telephone bill payments by individuals.
Pakistan Post provides Urgent Mail Service and Express Mail Service for international destinations as well.
Other courier services providing mail and delivery services in Pakistan include TCS, DHL, FedEx, OCS, International Express Worldwide Couriers, and Royal Express Courier Service, among others.
[1] Pakistan Statistical Year Book, 2018
Banking/ Financial Institutions Pakistan
Before Independence during the British colonial regime, the Reserve Bank of India was the central bank for both India and Pakistan. On 30 December, 1948, the British Government's commission distributed the Reserve Bank of India's reserves between Pakistan and India with 30% (750 M gold) allocated to Pakistan and 70% to India.
The financial losses incurred during the transition to Independence were deducted from Pakistan's share (a total of 230 million), which resulted in Pakistan receiving less in gold reserve than originally promised. In May 1948, Muhammad Ali Jinnah (Founder of Pakistan) took steps to establish the State Bank of Pakistan. These were implemented in June 1948, and the State Bank of Pakistan commenced operation on July 1, 1948
According to the List of Reporting Bank Branches 2018, provided by the State Bank of Pakistan, there are about 33 banks operating in Pakistan. Out of which 29 banks are Pakistani banks (with a total of 13,683 branches all over Pakistan) and 4 banks are foreign banks (with 9 branches all over Pakistan).
The banks are further divided as follows:
| | |
| --- | --- |
| Public Sector Commercial Banks | 05 |
| Specialized Banks | 04 (Providing banking facilities for agriculture, industry) |
| Domestic Private Banks | 20 |
Table 1.25 Pakistan Banking categories
Energy Resources of Pakistan
Energy Resources
Pakistan has extensive energy resources, including fairly sizable natural gas reserves, some proven[1] oil reserves, coal, and a large hydropower potential. Pakistan is a world leader in the use of compressed natural gas (CNG) for personal automobiles.
Electricity
Electricity produced in Pakistan is from 4 main sources: hydel, thermal, nuclear, and wind.
There are 5 major power producers of electricity in the country:
Water & Power Development Authority (WAPDA)
Karachi Electric Supply Company (KESC), now Karachi Electric (KE)
Independent Power Producers (IPPs)
Pakistan Atomic Energy Commission (PAEC)
Generation company (GENCOs)
WAPDA develops and maintains the transmission and distribution lines, while also generating electricity through hydel power plants. WAPDA, in fact, is the only company authorized to produce hydel power by building dams.
WAPDA was restructured in 1998 into distinct entities comprising of 4 GENCOs (Power Generating Companies), 10 DISCOs (Distribution Companies) and one TransCO (transmission Companies; NTDC). The 4 GENCOS produce electricity using fossil fuel. The 10 DISCOS are responsible for distributing power to the end user and the NTDC is in charge of the overseeing of transmission and distribution.
KESC (now KE) uses both natural gas and coal as fuel to produce electricity, and looks after the transmission and distribution of electricity to Karachi.
The IPPs use fossil fuel for production of electricity. They generate electricity which is then sold to WAPDA for transmission and distribution.
The PAEC generates electricity using atomic energy. This electricity is also bought by WAPDA for transmission and distribution.
Hydel Generation
The following table shows the details of the installed capacity of each of these power producers (as of January 2019).
WAPDA Hydel Power Projects[2]
| | |
| --- | --- |
| Name of Power Plant | Amount of Electricity Generated |
| Tarbela | 3,478  MW |
| Mangla | 1,000  MW |
| Ghazi Barotha | 1,450  MW |
| Warsak | 243  MW |
| Chashma | 184  MW |
| Rasul | 22  MW |
| Shadi-Waal | 14  MW |
| NandiPur | 14  MW |
| Kurram Garhi | 4  MW |
| Renala | 1  MW |
| Golen Gol; Chitral | 108  MW |
| Khan Khwar | 72 MW |
| Allai Khwar | 121 MW |
| Gomal Zam Dam | 17 MW |
| Jabban/Malakand | 22 MW |
| Duber Khwar Dam | 130 MW |
| Chickochi Mallian | 13 MW |
| Jinnah Power Project | 96 MW |
| Dargai | 20  MW |
| Tarbela 4th Extension | 1410 MW |
| Chitral | 1 MW |
| Neelum Jhelum | 969 MW |
| Total Hydel | 9417 MW |
Table 1.26 Pakistan Hydel Power Plants
In addition a total of 372 MW of Hydel power generated through Independent Power Producers and added to the national grid[3].
Thermal Generation
As per government of Pakistan policy, all thermal power generation has been restructured and 4 corporatized companies have been formed and registered:
Jamshoro Power Generation Company Limited (GENCO-1) headquartered at Jamshoro, district Dadu, near Hyderabad Sindh
Central Power Generation Company Limited (GENCO-2) headquartered at Guddu, district Jacobabad, Sindh
Northern Power Generation Company Limited (GENCO-3) headquartered at Muzaffargarh, Punjab
Lakhra Power Generation Company Limited (GENCO-IV) at Khanote, Sindh
These GENCOs have commenced full operations. The total generating capacity of all GENCOs is 5,640 MW[4]
Karachi Electric Supply Company
The KESC has plants located in Karachi, producing a total of 1,756 MW of power, distributed as follows[5]:
| | |
| --- | --- |
| Thermal Power Station, Korangi | 107 MW |
| Gas Turbine Power Station, Korangi | 248 MW |
| Gas Turbine Power Station, SITE | 107 MW |
| Thermal Power Station, Bin Qasim | 1,832 MW |
| Gul Ahmad Energy | 136 MW |
| Tapal Energy | 104 MW |
| Others (Owned by KE) | 550 MW |
| Total (KE) | 3,084 MW |
Table 1.27 Pakistan KE Power Stations
Independent Power Producers (IPPs)
The total amount of electricity produced by IPPs is Hydel 372 MW, Thermal 16,946 MW and Renewable Energy 2047 MW[6], with power plants located all over Pakistan; distribution of the amount of power produced according to plant capacity for some major Thermal Power plants is as follows:
| | |
| --- | --- |
| Hub Power Project | 1,292 MW |
| AES Lalpir Ltd, Mahmood Kot, Muzaffargarh | 362 MW |
| AES Pak Gen, Mahmood Kot, Muzaffargarh | 365 MW |
| Altern Energy Ltd, Attock | 31 MW |
| Fauji KabirWala Power Company, Khanewal | 157 MW |
| Gul Ahmad Energy Ltd, Korangi | 136 MW |
| Habibullah Coastal Power Ltd | 140 MW |
| Japan Power Generation, Lahore | 120 MW |
| Koh-e-Noor Energy Ltd, Lahore | 131 MW |
| Liberty Power Limited, Ghotki | 235 MW |
| Rousch Power, Khanewal | 450 MW |
| Saba Power Company, Sheikhpura | 134 MW |
| Southern Electric Power Co. Ltd, Raiwind | 117 MW |
| Tapal Energy Limited, Karachi | 126 MW |
| Uch Power Ltd, Dera Murad Jamali | 586 MW |
| Attock Gen Ltd, Morgah Rawalpindi | 165 MW |
| Atlas Power, Sheikhupura | 225 MW |
| Engro Energy Ltd, Karachi | 227 MW |
| Kot Addu Power Co. Ltd. (Privitized) | 1,638 MW |
| Renewable Energy | 2047 MW |
Table 1.28 Pakistan IPP Power Stations
Pakistan Atomic Energy Commission
Total energy produced through atomic power plants is 9,051 MW, generated by the following power plants[7]:
| | |
| --- | --- |
| KANUPP, Karachi, Sindh | 137 MW |
| CHASNUPP-I,II,III & IV | 1,330 MW |
| Total (Nuclear) | 9,051 MW |
Table 1.29 Pakistan Atomic Energy Power Plants
Gas Industry Pakistan
The gas industry has been developing rapidly since the 1950s, following the discovery of the large natural gas field in Sui, Balochistan (9.6 TCF of gas in place) and the construction of the first pipeline providing natural gas to Karachi. The gas potential of Pakistan is far from being realized, as significant discoveries of natural gas fields are made frequently in the Central Indus basin, but remain untapped.
Pakistan, with a large gas transmission system employing pipelines, has one of the most extensive gas networks among developing countries. It extends to all the major cities of Pakistan—from Karachi in the South, to Peshawar in the North. There is one major interconnected network providing high-BTU (British thermal unit) gas, owned and operated by the Transmission and Distribution Company (T&Ds). In addition, the Mari Gas Company Ltd (MGCL) supplies a small distribution system by installing pipelines that provide medium-BTU gas to a number of power and fertilizer plants. There are a few additional, small, dedicated high-pressure gas transmission pipelines.
A total[8] of 12,971 km of transmission, 139,827 km of distribution and 37,058 service gas pipelines in Pakistan supplies gas to 2,552 cities and villages of Pakistan.
Education in Pakistan
Education in Pakistan is overseen by the Ministry of Education of the Government of Pakistan. The academic institutions are the responsibility of the provincial governments while the federal government mostly assists in curriculum development, accreditation, and some financing of research.
Education in Pakistan is generally divided into 5 levels:
primary (grades one through 5)
middle (grades 6 through 8)
high (grades 9 and 10, leading to the Secondary School Certificate or SSC)
intermediate (grades 11 and 12, leading to a Higher Secondary School Certificate or HSC)
university programs leading to graduate and advanced degrees
The total number of government owned Educational Institutions in Pakistan as per Pakistan's Economic Survey 2018-19 are as follows:
| | | | |
| --- | --- | --- | --- |
| Institution | Boys/Girls | Institution | Boys/girls |
| Primary schools | 119,783/53,424 | Middle schools | 23,884/28,871 |
| High Schools | 18,137/14,117 | Arts & Science Colleges | 971/931 |
| Professional Colleges | 638/80 | Public Sector Universities | 103 |
| Private Sector Universities | 75 | Vocational Institutes (Public) | 806 |
| Vocational Institutes (Private) | 841 | Technical schools | 107 |
Table 1.31 Pakistan Government Educational Institutes
Health care Pakistan
In Pakistan, the average life expectancy[9] is 66.4 years. Mortality rates are high for infants (52 per 1,000), with 45.6% of deaths in the neo-natal period, and under-5 children (79 per 1,000).
Healthcare in Pakistan is administered by the Ministry of Health (MOH). The government of Pakistan spends nearly 0.6 to 1.19% of its GDP and 5.1 to 11.6% of its development expenditure on healthcare[10]. A national health policy unit was established in the federal MOH in 2004, with the technical assistance of World Health Organization (WHO). Health is, by Constitution, a provincial matter, and service delivery is mainly the responsibility of provincial governments, while the federal government is in charge of policy development and broad strategic directions, monitoring and evaluation, inter-provincial and external coordination, and certain essential functions such as implementation of international health regulations.
Provision of healthcare for the rural populace has long been a stated priority, but efforts to provide such care continue to be hampered by administrative problems and difficulties in staffing rural clinics. In the early 1970s, a decentralized system was developed, in which basic health units provided primary care for a surrounding population of 6,000 to 10,000 people, rural health centers offered support and more comprehensive services to local units, and both the basic units and the health centers could refer patients to larger urban hospitals.
Public health activities are carried out through National Priority health programs which are implemented through an extensive network of primary healthcare facilities, outreach programs, and community based services. Although federally-led, over the years, there has been a gradual decentralization of the programs, which have moved from federal to provincial and in some cases to the district level for management and administration purposes. The Local Government Ordinances promulgated in 2001 to devolve power and responsibilities to the Local Governments was silent on the roles of provincial governments in healthcare. In the post-devolution scenario, this oversight at the policy level has led to disagreements between Provincial Health Departments, Executive District Officers-Health (EDOs) and their District Coordination Officers (DCOs).
The following table gives the health facilities in Pakistan as recorded over a period of 3 years[11]:
| | | | |
| --- | --- | --- | --- |
| Health Manpower | 2015-16 | 2016-17 | 2017-18 |
| Registered Doctors | 195,896 | 208,007 | 220,829 |
| Registered Dentists | 18,333 | 20,463 | 22,595 |
| Registered Nurses | 99,228 | 103,777 | 108,474 |
| Population Per Doctor | 997 | 957 | 963 |
| Population Per Dentist | 10,658 | 9,730 | 9,413 |
| Population Per Bed | 1,592 | 1,580 | 1,608 |
Table 1.32 Pakistan 3 year Healthcare Statistics
According to the Economic Survey of Pakistan 2018-19, National Medical and Health Establishments of Pakistan are as follows:
| | |
| --- | --- |
| Hospitals | 1,279 |
| Dispensaries | 5,671 |
| Basic/Sub-Health Centers | 5,527 |
| Maternity & Child Health Centers | 687 |
| Rural Health Centers | 650 |
| TB Centers | 326 |
| Total Beds in hospitals and Dispensaries | 132,227 |
Table 1.33 Pakistan Healthcare Facilities
In addition to these facilities, Pakistan is home to the National Council for Tibb (Unani medicine) which not only secures maintenance of an adequate standard of education in recognized institutions, but makes arrangements for the registration of duly qualified persons in accordance with the provision of Unani, Ayurvedic and Homeopathic (UAH) Act 1965. At present, there are 30 Tibbia colleges in the Private Sector and 1 college in the public sector, offering 4 year diploma courses in Tibb-e-Unani that follow the prescribed curriculum and conditions laid down in the regulations. A five-year degree program has been launched by the Faculty of Eastern Medicine of Hamdard University, Karachi, and the curricula are revised and standardized by the Higher Education Commission (HEC).
There has been a marked boom in private clinics and hospitals since the late 1980s and a corresponding deterioration in services provided by nationalized hospitals.
Policing Pakistan
Federal Police Organizations
Modern police may be described as an organized body of personnel assigned to preserve good order and prevent and detect crime. The quasi-federal character of the Pakistani State envisages a coordinating and counseling role for the federal government in policing matters and even authorizes it to set up certain police organizations. At present, there are several institutions performing these tasks at the federal level:
Federal Investigation Agency (FIA)
Anti-Narcotics Force (ANF)
Frontier Constabulary
Frontier Corps
Pakistan Coast Guards
Pakistan Rangers
National Highways and Motorways Police (NHMP)
Pakistan Railways Police
Islamabad Police, Islamabad Capital Territory
The agencies established at the federal level have cross-provincial jurisdiction throughout Pakistan over matters and offences concerning the federal government as listed in the Federal Legislative List, read with Article 142 of the Constitution. These agencies are of relatively recent origins compared to the provincial police establishments. For instance, the ANF was established under the Anti-Narcotics Force Act 1997 and controls trafficking of narcotic substances. The NHMP was established in 1997 and regulates traffic on the roads designated as National Highways and motorways. Similarly, offences against the interests of the federal government, such as the ones punishable under the High Treason (Punishment) Act of 1973, will be investigated by the FIA which was established in 1975.
The Civil Armed Forces, including the Pakistan Rangers, the Frontier Corps, the Frontier Constabulary, the Northern Areas Scouts (also known as the Gilgit-Baltistan Scouts) and the Pakistan Coast Guards, are field organizations of the Federal Ministry of Interior. These agencies are broadly tasked with a) securing and checking illegal border crossings, b) preventing smuggling, c) enforcing drug control, and d) assisting provincial governments in maintaining law and order when requested. The leadership cadres of these agencies come from the Armed Forces.
Provincial Police Organizations
Traditional policing is the responsibility of the provinces. Following are the police entities that can be found at the subnational level:
Punjab Police, Punjab province
Sindh Police, Sindh province
Khyber Pakhtunkhwa Police, Khyber Pakhtunkhwa province
Balochistan Police, Balochistan province
The provincial police organizations across the country have characteristics and structures similar to each other, which are as follows:
Maintaining order and preventing/detecting crime
Ensuring the implementation of major substantive and procedural criminal laws (i.e. the Pakistan Penal Code, the Code of Criminal Procedure, and the Qanun-e-Shahadat Order)
Drafting of most senior officers from the federally maintained Police Service of Pakistan (PSP), which recruits, trains and manages the recruits/ officers for all provincial police departments. This ensures that police leadership throughout Pakistan emerges from the same training and recruitment background
Gilgit-Skardu (Karakoram Highway) Road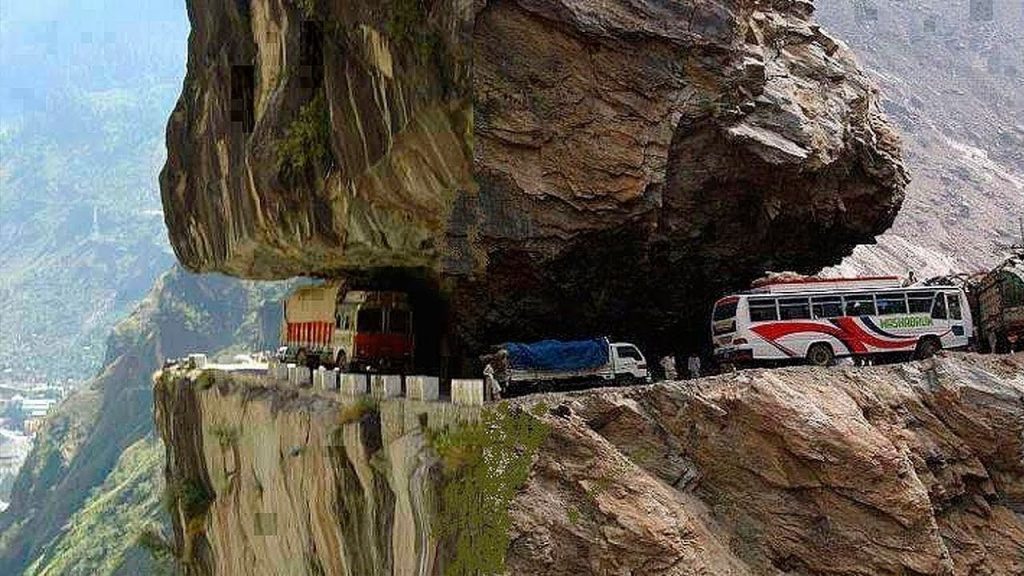 Minar-e-Pakistan, Lahore
Markhor, the National Animal of Pakistan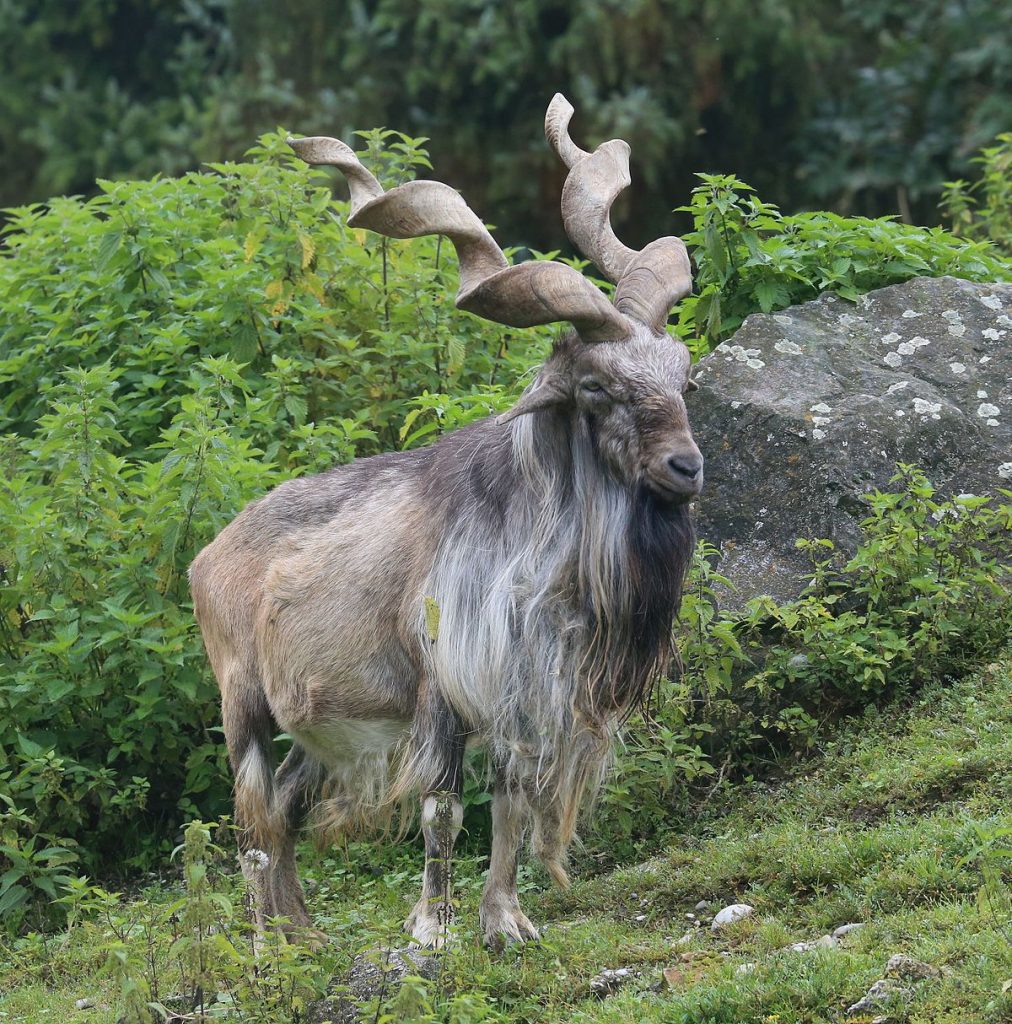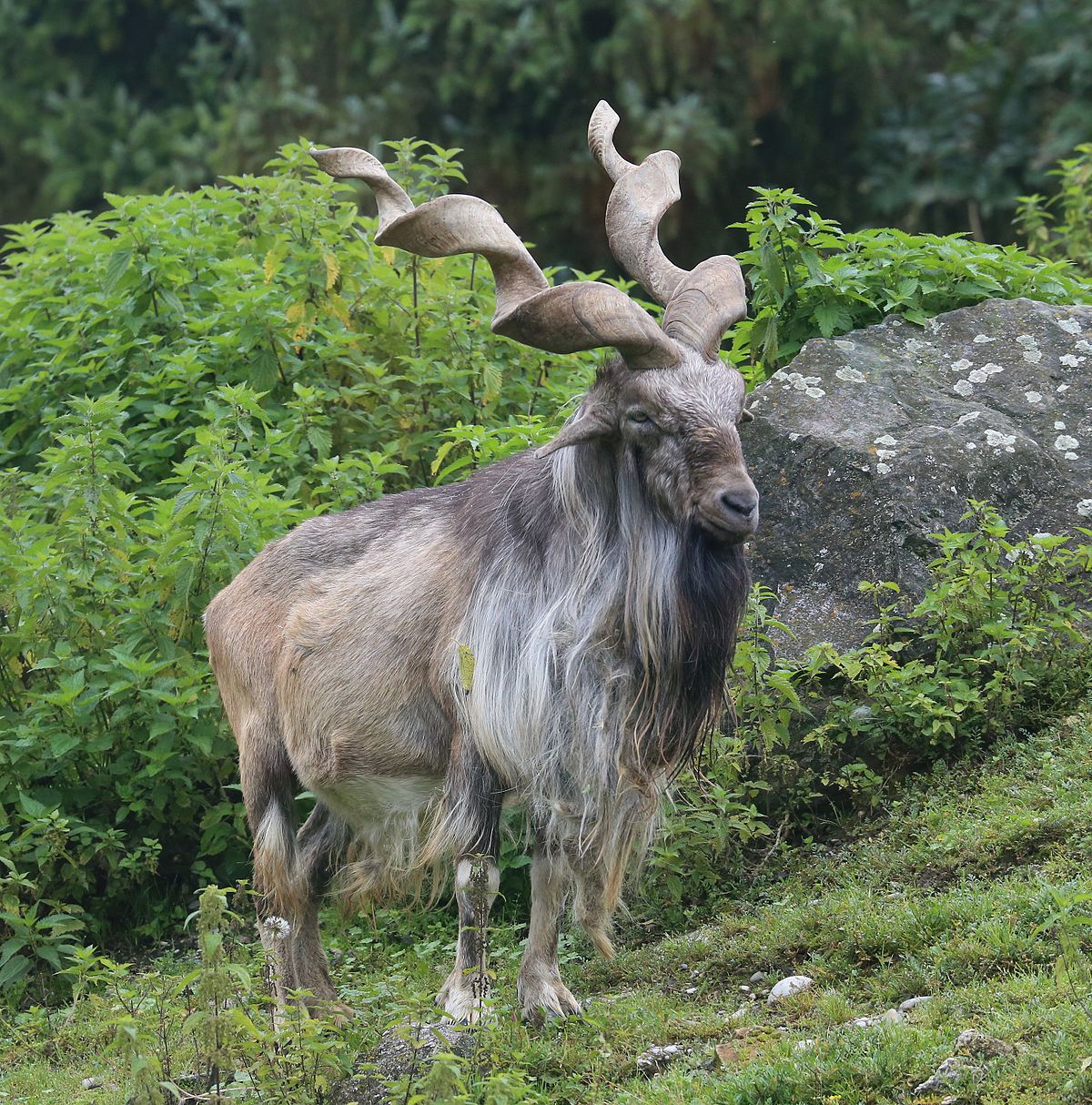 M.A. Jinnah and his Sister, Fatima Jinnah