Share now
Economic Infrastructure; Sindh Province
The economic infrastructure of Sindh consists of an extensive road network, railway lines, ports and shipping, and airways. Sindh's Communications sector, consisting of print and electronic media (television and cable), as well as radio and information technology, is at the forefront of the Communications sector in Pakistan. Internet service is available in 138 towns and cities of Sindh.
Roads – Railways and Airways – Media – Telecommunications – Post Offices and Courier Services – Banking/ Financial Institutions – Electricity and Gas – Education – Health – Policing
Road Statistics; Sindh Province
According to the Sindh Development Statistics 2017-18, there are a total of 21,614 km of Black Topped roads in Sindh.
Details of the Road Network of Sindh[1] are shown in the following table:
| | |
| --- | --- |
| National Highways | 1,279 km[2] |
| Provincial Highways | 3,620.7 km |
| Access Roads | 9,893.1 km |
| Secondary Roads | 10,589.47 km |
| Total Road Length | 25,383 km |
Table 1.16 Sindh Road Network Details
Road statistics, according to Sindh Development Statistics 2017-18[3]:
| | |
| --- | --- |
| Total Road Length | 21,614.00 km |
| High Type Roads | 21,614.00 km |
Table 1.17 Sindh Road Statistics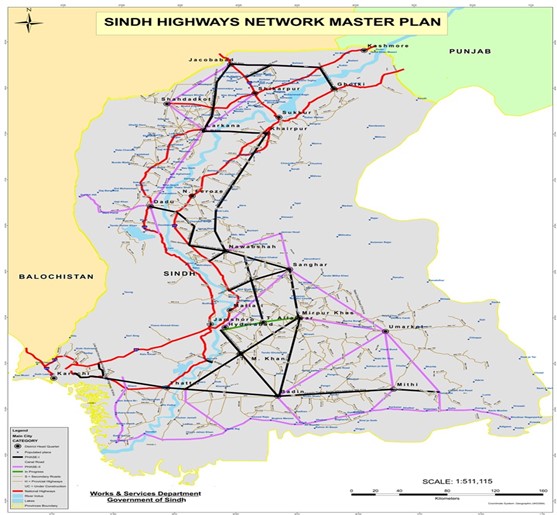 Figure 1.19 Sindh Highways Network Map
Important National Highways and Motorways of Sindh:
National Highway N-5. Karachi-Ubuaro, Ghotki district. (671 km)
National Highway N-25 (also known as RCD Highway). Karachi-Bela City, Lasbela district. (23 km)
National Highway N-55 (also known as Indus Highway). Karachi-Hyderabad-Nawabshah-Khairpur. (495 km)
National Highway N-65. Sukkur-Shikarpur-Jacobabad. (90 km)
Motorway M-7 . Dadu-Dureji, Hub district. (132 km)
Motorway M-9 . Karachi-Hyderabad. (136 km)
Karachi-Northern Bypass M-10. (57 km)
Railways and Airways; Sindh Province
Railways
Shortly after the fall of Sindh and Punjab to the British Raj in 1847, Sir Henry Edward Frere (a British Colonial Administrator), the Commissioner of Sindh, sought permission from Lord Dalhousie (Governor General of India)  to begin a survey for a Karachi seaport and railway line connecting Karachi to Lahore. On 13th May 1861, the first railway line was opened for public traffic between Karachi City and Kotri, a distance of 169 km (105 miles). By 1876, the line had been extended to Lahore.
At present, there are 2 vital railway lines in the province, one connecting Sindh to Punjab and the other to Quetta, Balochistan. A branch line from Hyderabad connects the province to the Indian border at Khokrapar (Tharparkar Distict), via Mirpurkhas.
Airways; Sindh Province
J.R.D. Tata, also known as the "father of aviation" in British India made the maiden voyage from Juhu Aerodrome in Bombay to Drigh Road airstrip (now Jinnah International Airport), Karachi, via Ahmedabad, on 15 October 1932, carrying mail in a Puss Moth aircraft[4].
During the 1940s there was a large black colored hangar at the current site of Karachi Airport, constructed for the British R101 Airship. However, the R101 Airship did not arrive in Karachi (then part of the British Raj) as the aircraft crashed early in its journey in France. This hangar was big enough, however, to be often used by aircraft as a visual marker while attempting VFR landings at Karachi. It remained a landmark till in the 1960s, when President Ayub khan ordered its demolition.
During the Second World War, Karachi became the military base and port for supplies to the Russian front. Troops were stationed and trained at this base. Military intelligence services also operated from this base and basic telegraph and telecommunication systems were established. After the War, Karachi became the center for supplies to the allied troops in South and South-East Asia.
At the time of partition, Karachi had the only airport in Sindh. Since then, a number of new airports have been constructed as follows:
| | | | |
| --- | --- | --- | --- |
| Airport | District | Military Airbase | District |
| Hyderabad (now closed) | Hyderabad | PAF Base; Shahbaz | Jacobabad |
| Jacobabad Airport | Jacobabad | PAF Base Faisal | Karachi |
| Kandanwari (Private; owned by a consortium of gas cos.) | Khairpur District | PAF Base Masroor | Karachi |
| Jinnah International Airport | Karachi | Sindhri Airport | Mirpurkhas |
| Mohen-jo-Daro Airport | Larkana | PAF Base Bholari | Thatta |
| Nawabshah Airport (Used only as diversion airport) | S. Benazirabad | | |
| Sawan/Sahiwal (Private & domestic) | Khairpur District | | |
| Sehwan Sharif | Jamshoro | | |
| Sukkur Airport | Sukkur | | |
| Talhar Airport | Badin | | |
| Dadu Airport | Dadu | | |
| Sehwan Sharif Airport | Jamshoro | | |
Table 1.18 Sindh List of Airports
Media; Sindh Province
Radio; Sindh Province
Pakistan Broadcasting Corporation (PBC) is the official Radio Broadcasting Corporation of Pakistan. It owns 5 MW[5] and 9 FM radio stations in Sindh. There are 3 MW stations in Karachi and 2 in Hyderabad. Karachi, Mithi, Hyderabad, Bhitshah, Khairpur, and Larkana are home to FM radio stations. There are a number of privately owned radio channels in various districts of Sindh in addition to those owned by the PBC. These channels broadcast programs in regional languages (Sindhi, among others) as well as the national language (Urdu).
Television; Sindh Province
From independence to the year 2000, Pakistan had only one state-owned television broadcaster, called Pakistan Television, which had its headquarters in both Lahore and Karachi. The Karachi station began its broadcasts in 1967, whereas the Lahore station started broadcasting in 1964. PTV can now be viewed on terrestrial networks through boosters and cable networks in all areas of Pakistan. By 2007, PTV had expanded to broadcasting content to 6 channels. The Peoples Television Network was the first private channel, which began broadcasting in 1990 as Shalimar Television Network (STN) from Islamabad and Karachi. This channel was shut down due to administrative reasons in 1999. Another private TV channel, Indus TV, was launched in the year 2000 from Karachi.
Some of the TV stations which have their headquarters in Karachi, Sindh are:
BusinessPlus (Closed in 2018)
ARY (7 channels)
Express TV (2 channels)
Hum TV (3 channels)
TV One (2 channels)
Geo TV (5 channels)
Urdu1
Madani Channel
Health TV
KTN (Sindhi language)
Kashish TV (Sindhi language)
Oxygene TV
Aaj TV (2 channels)
Dawn News
Raah TV
Indus TV Network
Labbaik TV
Jaag TV Renamed as GNN
Samaa News
All the TV channels broadcasting Sindhi language programs are based either in Karachi or Hyderabad.
Print Media; Sindh Province
Sindh is home to the most influential print media in the country. The largest and most highly circulated English and Urdu language publications are based in Karachi. The province also has a flourishing regional language print media which holds a near monopoly over circulation in interior Sindh.
Telecommunications; Sindh Province 
Sindh is in the forefront of the telecommunications sector in Pakistan, which includes internet services and cellular networks.
Internet service is available in 138 towns and cities[6]. In all, there are 91 tehsils/ Tehsils in Sindh, of which, 73 tehsils have access to fiber optics and, thus, to modern telephone facilities. Nearly all of Sindh has access to cellular phone service.
The share of telecom sector in total GST (General Sales Tax) of the country has increased from 8% in 2002 to 13.5% in the year 2005. In 2005, 1,516,669 fixed line connections were operating in Sindh[7].
Post Offices and Courier Services; Sindh Province
The Pakistan Post Office Department of Sindh has General Post Offices in nearly every district of Sindh. It provides communication links for individuals and businesses. In addition, it also collects payments for utility bills, provides facilities like the Postal Savings Bank and International Money Transfers. The department also provides Express Post Services.
Service providers like TCS, BCS, OCS, DHL, Hyeworth Mail Order Co., IDL World Wide Express and TransInternational provide courier services for letters, and parcels to be delivered provincially, nationally, and internationally.
Banking/ Financial Institutions; Sindh Province
Nearly all national and international banks operating in Pakistan have their branches in Sindh. Since Karachi is the commercial hub of the country, nearly every commercial bank operating in Pakistan has its branches in Karachi.
National banks with headquarters and branches in Sindh include:
Allied Bank
Arif Habib Rupali Bank
Askari Commercial Bank
Atlas Bank
Bank Alfalah
Bank AlHabib
Bank Islami
Crescent Commercial Bank
Faysal Bank
Dubai Islamic Bank
First Women Bank
Habib Bank
Habib Metropolitan Bank
Industrial Development Bank of Pakistan
JS Bank
Muslim Commercial Bank
Meezan Bank
Mybank Pvt. Ltd.
National Bank of Pakistan
Prime Commercial Bank
Saudi Pak
SME
Soneri Bank
Standard Chartered
Bank of Khyber
Bank of Punjab
United Bank Ltd.
Zarai Taraqiati Bank Ltd.
Electricity and Gas; Sindh Province
Karachi Electric (KE), formerly known as Karachi Electricity Supply Corporation (KESC), looks after the supply of electricity to Karachi. Hyderabad Electric Supply Corporation (HESCO) looks after electricity supplies to the rest of Sindh.
Electricity Generated and distributed by KE Includes:
KE           2,294 MW
IPPs[8] connected to KE 366 MW
Other sources[9] connected to KE 87 MW
KANUPP 137 MW
Total 2,884 MW
Gas connections are available in most of the urban areas of Sindh.
Educational Institutions; Sindh Province 
The literacy rate of Sindh as per Sindh at a Glance 2018 by Federal Bureau of Statistics is 62.2%. The breakdown is as follows:
| | |
| --- | --- |
| Male Literacy rate | 72.8% |
| Female Literacy Rate | 49.9% |
| Urban Literacy Rate | 78.4% |
| Rural literacy rate | 44.1% |
Table 1.20 Sindh Literacy Rates
Formal schooling in Pakistan has 3 stages: primary, middle and secondary or high school, and runs for a total period of 10 years. Total number of public and private educational institutions in the province[12] is shown in the following table:
| | | | |
| --- | --- | --- | --- |
| Institution | Boys/Girls | Institution | Boys/Girls |
| Primary schools | 33,830/4,303 | Middle schools | 1,696/ 545 |
| High Schools | 1,473/537 | Higher Secondary School | 7/9 |
| Colleges | 139/99 | Post Graduate Colleges | 09/05 |
| Technical Institutes | 65/8 | Commercial Training | 40/- |
| Vocational Training | 39/100 | Cadet Colleges | 05 |
| Agricultural Colleges | 01 | Universities Public sector | 21/1 |
| Universities (Private) | 33/1 | Medical Schools[13] | 22 |
| Engineering Colleges/ Universities | 23 | Agriculture University | 01 |
| Law Colleges | 18 | | |
Table 1.21 Sindh Educational Institutes
Healthcare Facilities; Sindh Province
According to the Human Development Index (HDI)[14], the urban areas of Sindh have the highest ranking (0.659) but the rural areas of Sindh have the lowest ranking (0.456) in Pakistan. The province has the highest unemployment ratio. Sindh also has the highest child mortality rate (109 per 1,000 births) compared to the national average of 103 per 1,000 births. The number of health institutions in the province[15] are shown in the following table:
| | | | | | |
| --- | --- | --- | --- | --- | --- |
| Institution | No. | Beds | Institution | No. | Beds |
| Teaching Hospitals | 05 | 7,382 | Government Civil, Specialized, Major  & Taluka Hospitals | 102 | 7,016 |
| Departmental Hospitals | 31 | 3073 | Government Dispensaries | 928 | 30 |
| Semi Govt. & Local Bodies Dispensaries | 942 | 88 | Mother Child Health Centers (MCHC) | 96 | 91 |
| Semi Govt., Local Bodies MCHC | 49 | 38 | Rural Health Centers (RHC) | 133 | 1703 |
| Basic Health Units (BHU) | 800 | 1615 | Govt. TB Clinics | 207 | 30 |
| Private TB Clinics | 16 | 10 | Semi Govt., Local Bodies TB Clinics | 5 | 2 |
| Private Hospitals | 502 | 11,516 | Local Bodies Hospitals | 8 | 1139 |
| Private Dispensaries | 1,126 | 597 | Private MCHC | 82 | 52 |
Table 1.22 Sindh Health Institutes Statistics
Other health clinics and institutes include:
17 Leprosy Clinics
42 Maternity Homes
4 Homeopathic Dispensaries
8 Trauma Emergency Centers
441 Unani Shifakhanas
5 Urban Health Centers
12 Urban Health Units
Policing; Sindh Province
Sindh police is responsible for policing of Sindh and keeping the province peaceful.
Sir Charles Napier, the Governor of Bombay Presidency (also known as Bombay and Sindh from 1843 to 1936) created the Sindh Police in 1843, which was funded by the state and consisted of a distinct chain of command, a mounted section, and was equipped with weapons. This Police Force was supervised by the officers of the British army. This police system was exceptionally successful, and British East India Company suggested that a common system of policing be established on this pattern. A Police Commission was formed in 1860 and a police system under the leadership of Mr. H. M. Court was set up. One of the policy directives to the Police Commission of 1860[16] was that "though the duties of the police should be entirely civil, not military, the organization and discipline of the police should be similar to those of a military body".
The current police system in Pakistan has been established under this Charter. The system normally comprises the Police, Prosecution, and Judiciary.  Police is the most visible arm of the Law Enforcement Mechanism. After the promulgation of the Police Order 2002 in Pakistan, the Police branch has been divided into 2 branches, namely Operation and Investigation. In every district, there is a District Public Prosecutor assisted by Deputy District Public Prosecutors and Assistant District Public Prosecutors (Section-8(2)).
Currently, the police department in Sindh is headed by the Inspector General Police (IGP) Sindh, who is in charge of providing overall security to the general public. In October 2010, the government announced that Sindh Police would be provided with phone-tracking technology to help them tackle kidnapping cases and corruption on the streets of Karachi.
Sindh Police is divided into the following sections:
Capital City Police Office, Karachi, which is headed by Capital City Police Officer (CCPO) Karachi
Range Police Offices
Special Security Unit (SSU)
The Karachi Capital City Police Office is divided into 3 zones:
The West Zone: This includes SITE Town, New Karachi Town, North Nazimabad Town, Gulberg Town, Liaquatabad Town, Orangi Town and Baldia Town
The East Zone: This includes Gulshan Town, Shah Faisal Town, Landhi Town, Korangi Town, Bin Qasim Town, Malir Town, and Gadap Town
South Zone: This includes  Kemari Town, Clifton, Saddar Town, Jamshed Town, and Lyari Town
The Karachi Traffic Police looks after 5 Traffic Zones in the city.
Following are the Range Police Offices in Sindh:
Hyderabad Range headed by Deputy Inspector General Police (DIGP) Hyderabad stationed in Hyderabad. The DIGP is responsible for the Additional Inspector General (AIGP) Crimes & Operations headquartered in Hyderabad and AIGP Establishment, again at Hyderabad. The DIGP is also responsible for the Senior Superintendent of Police (SSPs) of Hyderabad, Tando Allah Yar, Tando Muhammad Khan, Matiari, Badin, Dadu, Jamshoro, Thatta, and Sujawal districts
Sukkur Range headed by the DIGP at Sukkur. This DIGP is responsible for Additional Inspector General Police (AIGP) Establishment and Superintendent Police Sukkur, Khairpur, and Ghotki districts
Larkana Range headed by DIGP Larkana at Larkana and responsible for AIGP Operations at Larkana and Superintendant Police (SP) Legal (Larkana) as well as SSPs of Larkana, Shikarpur, Jacobabad, Kambar-Shahdadkot, and Kashmore districts
Mirpurkhas Range headed by DIGP Mirpurkhas and responsible for AIGP Crimes & Operations, Mirpurkhas, AIGP Establishment, Mirpurkhas, SP Legal Mirpurkhas, SSP Mirpurkhas, as well as SPs of Tharparkar and Umerkot districts
A newly established division of the Sindh Police is the Special Security Unit which is a specialized counterterrorism and security unit of the Sindh Police. It performs the function of counterterrorism operations and provides security to important personalities and institutions. It is based in Karachi and its operational jurisdiction extends to the entire area of Sindh.
Figure 1.21 Quaid-e-Azam Mausoleum
Figure 1.22 KPT Flyover Karachi
Figure 1.23 An artifact from Mohen-jo-Dar
[1] Road List 2009, issued by Government of Sindh
[2] National Highway Authority Official Website
[3] These Road Lengths are the roads maintained by the Highway Department only. Those not maintained by the Highway Department are the responsibility of local governments or other local bodies, and are not listed here
[4] An Introduction to Travel & Tourism by Pran Nath Seth, Sushma Seth Bhat
[5] Medium Wave
[6] Sindh State of Environment and Development by IUCN
[7] The Daily News August 2005.
[8] Independent Power Producers connected to KE
[9] Other Sources Include various Small Power Producers (SPPs), Certified Power Producers (CPPs) and Licensed Power Producers
[10] Spate irrigation is a type of irrigation system in which rain water is harvested stored and used for irrigation
[11] Sindh Development Statistics 2017-18
[12] Sindh Development Statistics 2017-18
[13] Including Private Sector
[14] HDI is a composite statistic of life expectancy, education, and per capita income indicators, which are used to rank countries into 4 tiers of human development.
[15] Health Profile Sindh District 2017
[16] From Official Website of Sindh Police