Share now
Economic Infrastructure of Punjab Province
Economic infrastructure consists of roads, highways, electricity, and gas. An efficient network of highways, link roads, and Farm to Market roads is operative in the province, rendering good services to the various communities in the process of development.
Roads and Transport – Rail and Airways – Radio and Television – Telecommunications – Post Offices/ Courier Services – Banking/ Financial Services – Electricity and Gas – Education – Health – Policing
Road Statistics and Transport; Punjab province
Roads are the predominant mode of transport in the country, handling more than 90% of the passenger and freight traffic that has an average annual growth rate of 4.5% and 10.5% respectively.[1] Increasing trends of road network expansion in the province are owed largely to increases in traffic population densities. In recent years, an overall demand for road transport has grown at the rate of 7 to 8% per year, which surpasses average GDP growth rates by significant margins. Ever-mounting demand prioritizes the construction of additional road links in the province to overcome existing gaps in road densities in both the north and south zones of the province. Medium Term Development Forum (MTDF, 2009-12) aims to enhance existing road densities through rehabilitation, improvement, widening, and construction of the road network. Planning approach and emphasis in the development program, however, is focused on the consolidation of existing road assets.
Lahore Metro Bus Service (the first of its kind in Pakistan) started operating in February 2013. A 27 km long road track has been built for the Metro Bus Service, from Gajumata to Shahdara; of this track, an 8.5 km long section is elevated.
The Farm to Market roads were built to connect the rural areas with the urban. The Sugar Cess Roads were built to provide access to the sugar mills situated in each district.
The following table shows the total lengths of various road types in Punjab as per Punjab Development Statistics 2018-19:
| | |
| --- | --- |
| Total Road length | 87,744 km |
| National Highways | 2,062 km |
| Provincial Highways | 81,540 km |
| Motorways | 443 km |
| Sugar Cess Roads | 3,374 km |
| Low Type Roads | 325 km |
Table 1.13 Punjab Road statistics
Figure 1.31 Road Map Punjab
Figure 1.32 Motorway (M 1) interchange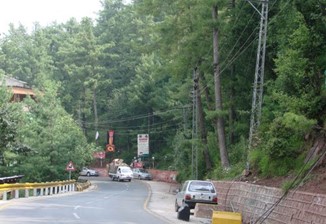 Figure 1.33 Bhurban Murree Road
Rail and Airways; Punjab province
Pakistan Railways forms the lifeline of the country by catering to its needs for mass-scale movement of freight as well as passenger traffic. Not only does it contribute to national growth, but it also promotes national integration. Nearly all urban areas and most of the rural areas are connected by railway lines. In all, there are 41 major train stations in the province.
Samjhota Express runs from Lahore to Amritsar and then on to Delhi, India. A container rail service has recently started providing service between Islamabad, Tehran, and Istanbul.
In all, there are 42 airports in Punjab. In addition, there are 7 military airbases in the province.
Radio and Television; Punjab province
Pakistan Broadcasting Corporation (PBC) is the state-run radio service of Pakistan. PBC has 7 medium-wave and 12 FM frequency radio stations in Punjab. In addition, there are 52 private broadcasting stations in Punjab.
The decision to establish a general purpose television service with the participation of private capital and under the general supervision of the Government of Pakistan (GoP) was taken in October 1963. Subsequently, the GoP signed an agreement with Nippon Electronic Company of Japan, allowing it to operate 2 pilot stations in Pakistan. The first of these stations went on air in Lahore on 26 November 1964. The project began with a tent on the back lot of Radio Pakistan, Lahore, where a transmission tower and a studio were constructed. On 26 November 1964, the first official television station commenced transmission from Lahore, followed by Dhaka, Bangladesh in 1965 (then the capital of East Pakistan); a 3rd center was established in Rawalpindi/ Islamabad in 1965 and the 4th in Karachi in 1966. In 1972, a new building was constructed, and PTV Lahore moved in to commence broadcasts from a proper TV station.
In addition to PTV, there are other channels that broadcast their programs from Punjab including Rohi TV, Waseb TV, Punjab TV, Royal news TV, and ATV.
Telecommunications; Punjab province
The telecom infrastructure is improving dramatically with foreign and domestic investments in fixed-line and mobile networks; fiber systems are also being constructed throughout the country to aid in network growth. Major businesses have established their own private systems; since 1988, the government has promoted investment in the national telecommunications system on a priority basis, significantly increasing network capacity. There are more than 1 million landline subscribers currently in Punjab and more than 84 million cellular phone users in the Province[2].
The telecom sector is seeing exorbitant growth in Punjab. All telecom companies are now working to broaden their network in Pakistan, Azad Jammu Kashmir, and Northern Areas, which were previously ignored.
Internet access has been available in Pakistan since the early 1990s. Broadband was first introduced in Pakistan in 1995 by Telstra. Wateen Telecom launched its WiMAX services in the country in 2007. It is the largest, and the first, nationwide WiMAX network in the world.
Post Offices/ Courier Services; Punjab province
Pakistan Post is the main enterprise overseeing a wide range of postal products and public services not just in Punjab but in Pakistan. The national character, strong brand recognition, and a wide network of post offices bestows a unique position to Pakistan Post, allowing it to play a vital role in the economic and social development of Pakistan. It serves as the principal agency for the government in implementing key policies. Pakistan Post is providing a variety of services on behalf of many federal and provincial government departments.
In addition to the Pakistan Post's Urgent Mail Service, there are a number of courier services working in the province.
As per Punjab Development Statistics 2018-19, there are 3,490 post offices in the province.
Banking/ Financial Services; Punjab province
The Bank of Punjab, established in 1989, in pursuance of The Bank of Punjab Act 1989, was given the status of a scheduled bank in 1994. The Bank of Punjab is working as a scheduled commercial bank with its network of 273 branches at all major business centers in the country.
The following banks have their head offices or the main regional offices in Punjab's capital, Lahore:
National Bank of Pakistan
Punjab Provincial Cooperative Bank
Small Medium Enterprise Bank
Habib Bank
First Women Bank
Allied Bank
United Bank
State Bank of Pakistan
Muslim Commercial Bank
Agriculture Development Bank
Industrial Development Bank of Pakistan
All private scheduled banks, all investment banks, all the Venture Capital and Discount Houses of Pakistan, Housing Finance companies, and Micro Finance Banks also have regional offices or head offices in the province.
In all there are 7,512 branches of scheduled/conventional banks in the Province[3].
Electricity and Gas; Punjab province
Punjab consumes 67%[4] of the total electricity generation in Pakistan and produces nearly 41% of total electricity generated in Pakistan.
Some of the major electricity producers in Punjab are:
| | | | |
| --- | --- | --- | --- |
| Hydro Power Plant | Capacity | Thermal | Capacity |
| Chashma | 184 MW |  Muzaffargarh | 1350 MW |
| Ghazi Barotha | 1450 MW | Faisalabad | 144 MW |
| Jinnah Hydel | 96 MW | Nandi Pur | 567 MW |
| Rasul Hydel | 22 MW | Other Thermal | 3965 MW |
| Chichoki Mallian | 13 MW | Nuclear | 1430 MW |
| Other Hydel | 162 MW | Renewable | 799 MW |
Table 1.14 Punjab Electricity Producers.
Oil is being extracted at Attock, Chakwal, and Rawalpindi districts, whereas gas is being mined at Attock, and Makhdoompur, Punjab.
Educational Institutions; Punjab province
The total literacy rate for Punjab as per the Economic Survey of Pakistan 2018-19 is 64.7% The Urban literacy rate is 77.2% and compared to 56.9 for rural areas.
The following table shows the number of government educational institutes in the province as per Punjab Development Statistics 2018-19:
| | | | |
| --- | --- | --- | --- |
| Institution | Boys/Girls | Institution | Boys/Girls |
| Mosque Schools | 606/36 | Law Schools | 38/- |
| Primary Schools | 17,483/18,608 | Middle Schools | 3,548/4,731 |
| Secondary schools | 3,500/3,163 | Higher Secondary | 508/609 |
| Degree colleges | 595/664 | Other Higher Secondary[8] | 162/118 |
| Other Degree Colleges[9] | 433/546 | Technical Training Institutes | 34/10 |
| Vocational Institutes | 420/545/205[10] | Commercial Training Institutes | 105/13 |
| Universities | 28/22[11] | Govt. Mosque Schools | 3,342 |
| Medical schools | 19/31[12] | Engineering Schools | 48[13] |
| Homeopathic Institutes | 93/4 | Tibbia Colleges | 22/1 |
| Textile Colleges | 2/- | | |
Table 1.18 Punjab Government Educational Institutes
The following table shows the type and number of private institutions in the province:[14]
| | | | |
| --- | --- | --- | --- |
| Type Of Institution | Boys/Girls/Co. | Type Of Institution | Boys/Girls/Co. |
| Pre-Primary Schools | – | Primary Schools | 203/435/11,820 |
| Mosque Schools | NA | Middle Schools | 538/1,136/22,599 |
| High Schools | 1,302/1,373/9,332 | Higher Secondary | 154/241/694 |
| Inter Colleges | 129/168/199 | Degree Colleges | 21/05/17 |
Table 1.19 Punjab Private Educational Institutes
Healthcare Facilities; Punjab province
The Directorate of General Health Services is responsible for providing health care facilities in Punjab.
The following table shows the Government Health care Institutions in Punjab province as per Punjab Development Statistics 2018-19:
| | | | |
| --- | --- | --- | --- |
| Institution | No./Beds | Institution | No./Beds |
| Government Hospitals | 325/41,668 | Dispensaries | 1,286/455 |
| Rural Health Centers (RHC) | 347/6,197 | Basic Health Units (BHU) | 2,609/4,966 |
| T B Clinics | 40/146 | Mother Child Health Centers | 285/34 |
| Sub-Health Centers | 223/134 | Private Hospitals | 63/6,591 |
Table 1.20 Punjab Health Care Institutes
The private health care system in Punjab and Pakistan is dominated by "clinics", which are the small office-based practices of general practitioners. There are a large number of such clinics in the province.
According to Punjab Development Statistics 2018-19, there are a total of 169,696 Registered Doctors (both genders) and 23,133 Dentists in Punjab. The total number of registered specialist medical practitioners is 40,794, and that of specialist dentists is 1,867.
Policing; Punjab province
During the British Raj, the Punjab Police was organized in 2 main branches: the Military Preventive Police and the Civil Detective Police. As this arrangement was not found to be satisfactory, the Government of India urged the Government of Punjab in 1860 to examine the system of policing prevalent in the province at that time with a view to changing it. However, as the issue was of general importance, the central government appointed a Commission to enquire into policing the whole of British India. The Police Commission of 1860 recommended the abolition of the Military Arm of the police, the appointment of an Inspector General of Police in the province and the placement of police in a district under the District Superintendent. The Commission recommended that only the District Magistrate should control any and all police functions. Based on the recommendations of the Commission, the Government of India submitted a bill which was passed into law as Act V of 1861. The Police Act of 1861 was then adopted by all the provinces, except Bombay, where a District Police Act was adopted in 1890. The Bombay District Police Act continued to remain in force in Sindh till the establishment of the One Unit Policy in 1956 in Pakistan.
The organizational design that was outlined in the Police Act of 1861 remains in force to this day. Policing is administered by the provinces that were divided into police jurisdictions corresponding to the districts and other divisions. The police were made exclusively responsible for the prevention and detection of crime. They were responsible to the District Magistrate in the maintenance of public order.
The Punjab Police Rules of 1934 documented the police practices as they stood at that time and introduced some new measures for improving administration and operational effectiveness of police. The content of the rules reveals that the Punjab Police had grown into a thoroughly professional police organization by 1934 and possessed considerable knowledge of crime and criminals in the province. It had developed effective procedures and practices for dealing with various kinds of criminal activity. The administrative and disciplinary functions were also elaborated. The rules have served as the model for similar sets of rules in other provinces of Pakistan and are still in force today.
The Punjab Police played a significant part in handling the refugee crisis of 1947-48. It continued as a separate organization till 1955, when it was merged with the police of other provinces to create the West Pakistan Police. There were several attempts to review and reform police organization and performance during the 1950s and 60s, which, however, could not be implemented.
The legal framework of police underwent a major change as a consequence of the Devolution of Power Plan implemented between 2001 and 2006. This plan called for the devolution of the authority of the Provincial Government to the districts and the introduction of public accountability of the police.
In line with the Devolution of Power Plan, the office of the District Magistrate was abolished in 2001 and a system of Public Safety Commissions was introduced. These changes were incorporated into a new Police Law which was promulgated in 2002. Apart from Public Safety Commissions, the Police Order 2002 also provided for a professional Police Complaints Authority, increased powers for the Inspector General of Police and separation of the watch and ward, and the investigation functions of the Police.
The current Punjab Police operates under the Police Order 2002 and the Police Rules of 1934. There is a Police Headquarters (PHQ) at Lahore which has a number of functional units like Finance & Welfare, Establishment, Operations, Training, Research & Development, Punjab Constabulary, Punjab Highway Patrol (PHP), and Traffic. These units report to the Inspector General of Police through their respective Additional Inspectors General of Police. The Regional Police Officers report to the Inspector General of Police directly and they do not form part of the Police Headquarters (PHQ), Punjab. The Inspector General of Police is an ex-officio secretary to the Government of Punjab. The Punjab Police is staffed by officers of the Punjab Police and the Police Service of Pakistan.
The main police formations are as follows:
Police Headquarters (PHQ), Punjab
Regional Police Offices
Counter Terrorism Department (CTD)
Investigations Branch
Special Branch